1 August 2018
Legends To Celebrate Hall of Fame's Class of 2018
The Broadcast Legends will celebrate the Bay Area Radio Hall of Fame's Class of 2018 on Saturday, October 13, with a special luncheon at the Basque Cultural Center in South San Francisco.
This year's class – the thirteenth to be honored – was selected in voting conducted among current members of BARHOF. The recipient of this year's Sherwood Award as most popular personality active on Bay Area airwaves, as chosen by the public, will also be celebrated during the luncheon.
Among the members of BARHOF's Class of 2018 are longtime Broadcast Legends Fred Krock, Gordon Zlot and the late Chris Edwards.
The announcement was made in July at the annual Radio Day By The Bay celebration at the California Historical Radio Society's headquarters in Alameda.
For reservations, please click here. (Advance reservations are required.)
The members of BARHOF's Class of 2018 include:
PROGRAM HOST
Scott Beach – Known on the air for his work at KCBS, KSFO and KKHI, the Oregon-born Scott Beach was also an actor (appearing notably in American Graffiti, The Right Stuff, Stand By Me and Mrs. Doubtfire), fabled man-about-town, raconteur and a founder of the long-running improv troupe, The Committee. He passed away in 1996 at the age of 65.
M. Dung (Michael Slavko) – One of the legendary characters of the airwaves, Dung Boy hosted KFOG's morning show and its "Sunday Night Idiot Show" for the better part of a decade, giving us a dictionary-full of new verbiage, including "Eye!" and "Day!" that didn't mean quite what Webster's definition told us they meant. Mike also worked his Dung magic at K-FOX (KUFX) in the late 1990s. He passed away in June 2017 at the age of 59.
NEWSCASTER
Jon Bristow – Currently with KCBS, Jon was a reporter and news anchor at KGO for more than 25 years, and joins an ever-growing list of San Francisco State alumni (not to mention KGO alums) in BARHOF.
TALK SHOW HOST
Gene Burns – Gene arrived at KGO in 1995 after a long career that took him from his native New York to stops in Philadelphia, Boston and Florida. His 16-year run at KGO included a weeknight program on "the issues of the day" and the Saturday "Dining Around With Gene Burns." Let go by KGO in 2011, he signed on with KKSF early in January 2012 but suffered a debilitating stroke that eventually led to his death in May 2013 at the age of 72.
SPORTSCASTER
Greg Papa – The radio voice of the Raiders for the past two decades, Greg Papa has attained iconic status as one of the top sportscasters in the United States. A product of Syracuse University – the cradle of sportscasters – Greg currently hosts the early afternoon shift (with Bonta Hill) on 95.7 The Game (KGMZ). He has also broadcast A's and Giants baseball, Warriors basketball, Cal football and basketball, and served as an in-studio host for both the Giants and Warriors broadcasts on NBC Sports Bay Area.
SPECIALTY
Jude Heller – One of the superstars of strategic brand marketing, the roster of Bay Area radio stations that Jude has left her own imprint on includes KFRC, KFOG, KNBR, The Bone, KOIT, K-FOX, The Game and KDFC, to name a few. Yet another San Francisco State product, her promotions work beyond radio included Bill Graham Presents, Lucasfilm and Live Nation and San Francisco's "Carnaval" celebration.
ENGINEERING
Fred Krock – In addition to being gifted with one of the grandest voices ever, Fred is among the most distinguished broadcast engineers in the industry. From his earliest days at Stanford, where he served in multiple roles at campus station KZSU, to his work as an announcer and chief engineer at KXKX (which later became KKHI) beginning in the 1950s, through his years at KQED-FM, Fred has also been one of the most valuable and venerable chroniclers of Bay Area radio history since the mid-century. A little-known fact: for many years, Fred has also been the magnificent voice heard on countless railroad videos, treasured by railfans around the world.
MANAGEMENT
Gordon Zlot – One of the very last of a disappearing breed, Gordon Zlot joins the Bay Area Radio Hall of Fame in recognition of his nearly fifty years of ownership of Redwood Empire Stereocasters in Sonoma County, a quartet of stations that includes KZST, KJZY, KTRY and KWVF. As independently-owned stations disappear from the radio dial in ever-increasing numbers, Gordon and his team continue to produce that rarest and most valuable of broadcast commodities: live, local programming tailored directly to the community it serves.
PIONEER
Floyd Farr – A Utah schoolteacher, Floyd Farr found that working in radio during the Great Depression could earn him a better living than a teacher's salary, which led him to San Francisco, where he rose to chief announcer for KPO and the NBC Red Network on the west coast. In 1947, Floyd became a co-founder of KEEN (1370 AM) in San Jose, also serving as its first general manager and helping to grow their Golden Pacific group to include stations in Lodi, Fresno and Hawaii. Floyd Farr passed away in 1984.
LEGEND
Chris Edwards – The People's Choice to be honored with induction into the Bay Area Radio Hall of Fame's Class of 2018 is Chris Edwards, who arrived fifty years ago in San Francisco for a job that he considered his "golden opportunity" – which it truly was for the self-proclaimed "Big Fat Chrissie" and his legion of fans (each one of them his "Kemosabe") on 1260/KYA. With his ebullient personality, Chris moved effortlessly into sales and became one of the top account representatives in the business, repping KYA, K101, KSFO, KFRC, KKSF, KABL, KTRB and KGO before his retirement in 2011. Meanwhile, he was always only a heartbeat away from his first love, the microphone, whether hosting the Saturday night "Chris Edwards Time Machine" on K101 and KSFO/KYA-FM or working the amateur airwaves around the world as W6OSV. Chris passed away in January 2014.
LEGENDARY STATION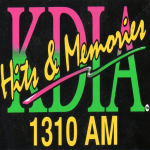 KDIA (Lucky 13), Oakland — One of the truly legendary stations in the history of American radio, KDIA was a pioneer in specifically serving one of the largest African American audiences in the nation. Beginning its life on the airwaves from Oakland in 1920 as experimental amateur station 6XAM, it became KLS in 1922, and KWBR in 1945 — all under the ownership of founders (and brothers) Stafford and Eugene Warner. The Warner brothers sold the station to Sonderling Broadcasting in 1959, at which time it became KDIA and embarked on its greatest period of growth, popularity and influence. Click here to read more about KDIA.
DON SHERWOOD AWARD
Brian Sussman – Brian began working at KSFO as a guest host in 2002 and moved into a full-time role at the station as its evening talk host in 2003. Following the departure of Lee Rodgers, Brian ascended to the lead role on KSFO's morning program in 2010, where he continues to host one of the most popular conservative talk shows in the nation. He receives this honor as the most popular personality in Bay Area radio following public balloting that attracted nearly 18,000 votes among 30 nominees from local stations in music, news, talk and specialty formats.
Click here to make your reservation for BARHOF 2018 celebration!